Pressure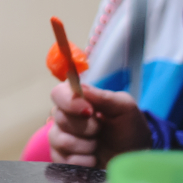 As we were wrapping-up dinner last night, the older two got popsicles as a little reward for cleaning their plates. The twins were long finished with their supper, but that didn't mean their appetites were. As luck would have it, the minute she was down to her very last bite, the twins miraculously appeared and the pressure was on.
So what's your guess?
Did she buckle and share? Or did she remain strong and enjoy that last bite?
Let's just say I was proud of her decision...
And so was Bates!