One Heck of a Swing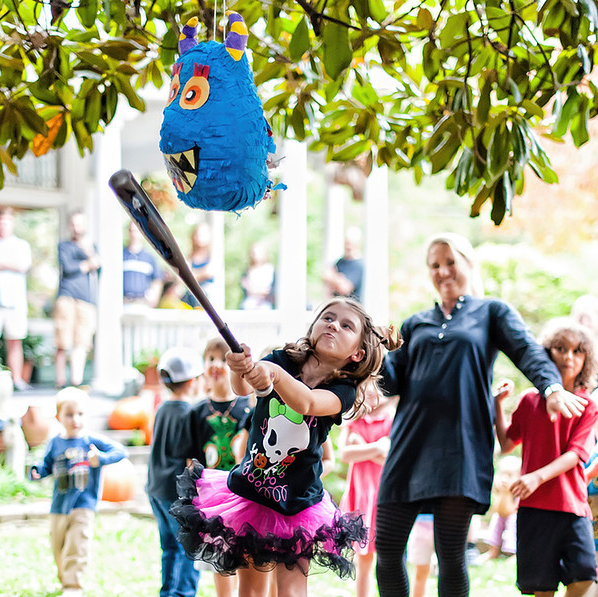 The Braves play the Cardinals tonight in a wild-card showdown here in Atlanta tonight. It's an exciting game for several reasons. First of all, the Cardinals are in town. Given the fact that Hadley is from St. Louis, you know she's excited. In fact, she scored tickets to the game (thanks, McKay!) and is taking a friend while I host a little pizza party with a few other dads and their kids. Nine kids, in fact. And four dads. Definitely out-numbered. Will we survive? Who knows...
I digress...
Secondly, if the Braves win, Chipper Jones gets to hold-off on his retirement. At least for a little while. But if they lose, it's "So Long, Chipper."
So tonight's a big night either way you look at it.
The subject of baseball reminds me of a birthday party I was fortunate enough to shoot last weekend. The highlight of the party was the monster piñata, as kids always get excited at the chance to whack something and score candy at the same time.
As the piñata-whacking ensued, I found a spot underneath the tree from which it was hanging, and began snapping away.
The line of kids was crazy long, and it was comprised of boys and girls of all shapes, sizes and ages. Each took a turn and after several rotations, it was decided that a new, more effective bat was needed.
And then she got her turn.
And it happened.
I'm not sure which I like more...the look of terror on the mama's face or the look of pure focus and determination on the little piñata-buster's face. It might just be a draw!
Either way you swing it (pun intended), it was a sight to behold, and I'm glad I was there to capture it!