Crawford's Crossing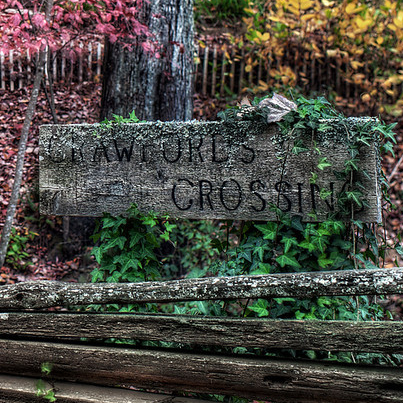 You can't go to North Georgia this time of year and not take your camera. You just can't do it. Taking it once step further, you can be just like everyone else and take pictures of the trees, or you can go against the grain and take a tripod and test your skills at HDR. Anyone that knows anything about HDR will tell you that taking pictures of trees is extremely challenging, especially if you're like me and typically bracket 9 exposures. Nature just ain't willing to sit still for that long!
Regardless, while up in Elijay with the family this weekend, I had a few opportunities to break out my tripod and do a bit of HDR photography. I don't get out as much as I used to, so it felt good to play with the settings, frame the shot a few different ways and just let her rip.
Our friends the Mark and Mary Sage struck gold when they bought this place earlier in the year. They call it Camp-O Flake-O, but for some reason (I'll find out one day, I'm sure...) there's a sign just as you walk over the foot bridge that says, "Crawford's Crossing." Standing in front of that sign and looking back up at the farmhouse is a great view, so I settled on that as my first shot of the day.
9 exposures at f/3.5 and I think it turned out okay. If I had it to do over again, I probably wouldn't go with such a wide aperture. I'd prefer that a bit more be in focus, but given how much the wind was blowing, I figured faster was a better choice. Anyway, I'm pleased with it.
How 'bout you?