Blue Jeans & Bomber Jackets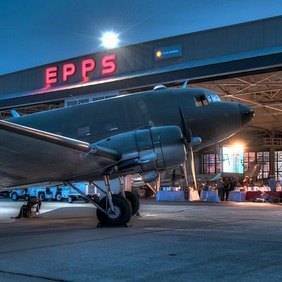 Saturday night, I had the pleasure of attending the Blue Jeans and Bomber Jacket BBQ fundraiser to benefit the Mighty Eighth Air Force Museum and to honor and recognize Atlanta area World War II veterans. There was a silent auction, a presentation on the late Frank D. Murphy, who was being honored that night, as well as live music and dancing. I had the pleasure of taking photos throughout the evening, and I must say it was one of the most memorable events I've been to in a long, long time. To find myself among a handful of World War II veterans and to thank them for their service...and to see how proud yet humble each and every single one of them was...it's just beyond words. It was an evening I'll cherish for the rest of my life. No doubt. I stepped outside the hangar during the presentation to try and capture at least part of the magic of the evening.
Stay tuned for images from the event. I have a feeling I got some really good shots that are definitely worth posting.